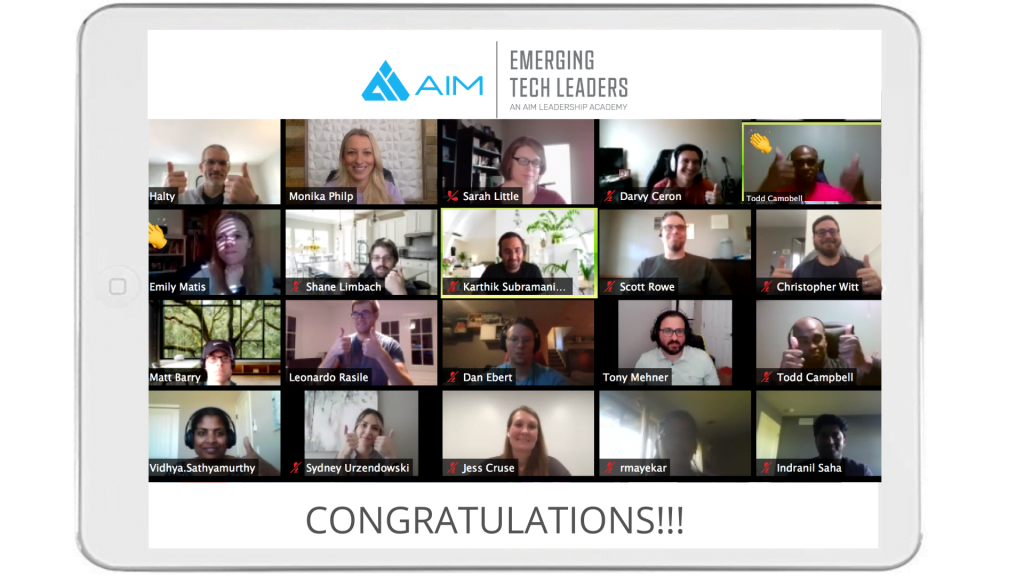 More than 20 local and international tech professionals graduated from the AIM Institute's fall Emerging Tech Leaders program on Thursday.
This was the second cohort held entirely virtually due to the global coronavirus pandemic. But the virtual nature meant the program's footprint could reach overseas for the first time ever, with three participants from the U.K.
The five week program gives professionals an overview of best leadership practices tailored to the tech industry, with goals to nurture future talent and allow participants to discern if they want to pursue a leadership track in their career.
"Today's tech professionals are dealing with many challenges. Effective management and leadership skills are needed now more than ever. I hope you take all you've learned and start implementing it in your workplace and your homes." said Monika Philp, AIM's director of tech leadership development, when she addressed the graduates.
During the graduation ceremony, participants shared what they were taking away from the course, everything from formalizing mentorship relationships to strengthening team communication.
Darvy Ceron Gomez, a solution consultant at Lunavi, said he learned many tactics that he will take into his burgeoning role as a company leader.. 
"I always thought leadership was like yoga, trying to develop my skills, find my weaknesses and improve those," Ceron Gomez said at the graduation ceremony. "That's a good thing to do, but I learned in the program that the best thing to do is use your strengths, and rely on those."
Sarah Little, of TD Ameritrade, said she especially appreciated learning tools and strategies to handle difficult and delicate conversations.
"That will be very useful for me in the near and far future," she said.
To learn more about AIM's Tech Leadership programs, visit our website or contact Monika Philp.
Congratulations to the graduates!
Pam Anderson, Tenaska
Halvdan Barret, TD Ameritrade
Matthew Barry, Blue Cross and Blue Shield of Nebraska
Sarah Berkebile, Bryan High School, Omaha Public Schools
Jason Borgmann, TD Ameritrade
Darvy Ceron Gomez, Lunavi
Dan Ebert, TEAM Software
Dennis Howe, Gavilon
Shane Limbach, Boys Town
Andrew Lisowyj, Blue Cross and Blue Shield of Nebraska
Sarah Little, TD Ameritrade
Emily Matis, AIM Institute
Rucha Mayekar, Careerlink, LLC
Tony Mehner, Tigerpaw Software
Tony Newton, TEAM Software
Leonardo Rasile, TEAM Software
Indranil Saha, Blue Cross and Blue Shield of Nebraska
Vidhya Sathyamurthy, Blue Cross and Blue Shield of Nebraska
Peter Shipstone, TEAM Software
Allison Sillik, DoSpace
Sydney Urzendowski, Gavilon
Christoper Witt, TD Ameritrade