"You got this! You're doing great. Easy money, easy money."
As one student struggles to step off a tree-high platform onto nothing but air and a row of swaying Olympic rings, her classmates shout words of encouragement at her. Though harnessed snugly by pulley and carabiner to a thick steel cord, and gripping two guiding ropes on either side of her body, she hesitates.
The task looks easy enough—from the ground. When you're 30 feet high, however, it's a different story.
Finally, the student squeals when she steps over the forested abyss, securing one sneaker into a slippery ring, and then another, and another. She makes her way all the way across the distance between two massive ash trees, then ziplines back to earth. Her classmates crowd around to congratulate her. She laughs as she catches her breath.
Last Friday, AIM accompanied 15 Papillion La-Vista Upward Bound students to the Go Ape rope course at Mahoney State Park in Ashland, Nebraska. Go Ape is an adventure activity where groups explore the forest canopy via a treetop rope course incorporating multiple zipline rides.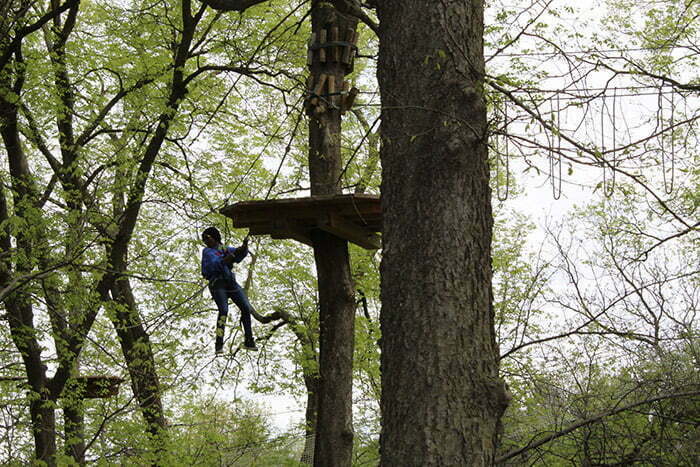 The field trip served as a challenging team-building exercise that also helped cap an academic year's worth of Upward Bound programming. Upward Bound is a federal TRIO program that helps students from disadvantaged backgrounds succeed in their precollege performance. AIM coordinates Upward Bound programs and provides free technology education through the Brain Exchange at five area high schools.
Jonathan Holland, director of educational programs at AIM, said the Boy Scouts' program C.O.P.E.—Challenging Outdoor Personal Experience—inspired the trip. Such experiences are meant to build trust, teamwork, self-confidence and determination  while also providing the myriad physiological and psychological benefits of outdoor exercise.
"It's a good way to close out a great school year and do some good team-building," Holland said.
Some students found the course more terrifying than others. Nevertheless, they all participated. When one student started showing signs of fear, other students' voices would swell with cheers and praise. Inevitably, the student in distress made it through.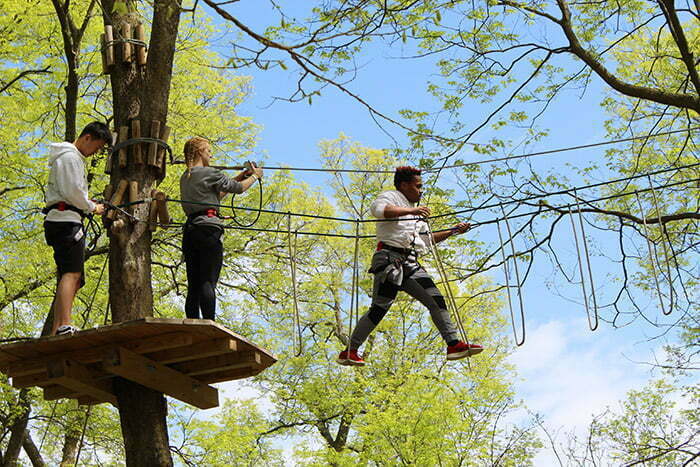 The process served as a microcosm for the support that AIM Upward Bound offers its students. Through a variety of initiatives—including specialized academic instruction, mentoring, counseling, cultural enrichment activities, and work-study programs—Upward Bound challenges youth to continually push themselves to do their best, while clipping them into essential services they need to make the journey safely.
Sophomore Quincy, who makes music, raps, and performs live under the name Qu33zy, says the trip helped him conquer fear.
"I was afraid of heights for the longest time," he said. "Then I found out the zipline wasn't as scary as I thought it would be." Once he got over his initial zipline fear, he said he started rushing through the course just to get to the next zipline station, because it was so fun.
The Upward Bound program in general has helped Quincy conquer another fear: selecting a college. "Upward Bound actually helped me get research done that I wouldn't have done on my own before. Now that I have a set college, I'm actively working to get to it." After graduation, he plans to attend Full Sail University to study music production.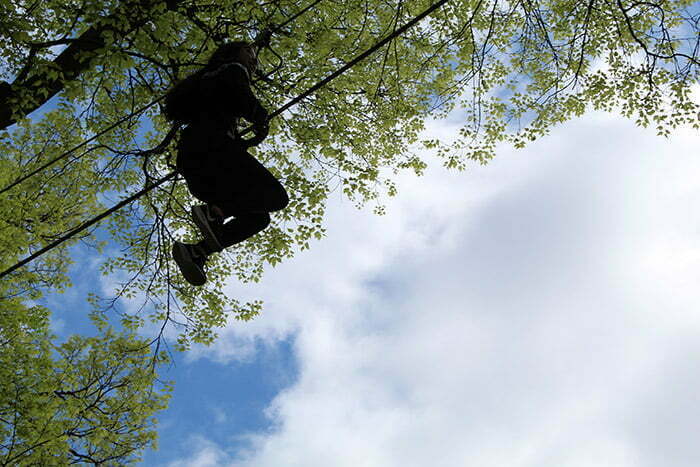 Freshman Kei'Mari enjoyed the variety of the ropes course. "It was fun to get up to the zipline, but it's actually better going down than it is going up," she said.
Kei'Mari also enjoys the variety built into Upward Bound itself.
"It's not like they have your mind set on one thing," she said. "They actually show you different things. I just want to be a lawyer, but they still show me different things you can do on computers and how to code and stuff like that."
AIM Institute is committed to providing free tech education experiences to youth who would not otherwise have the chance to access them. Our youth-in-technology programs help build the tech talent community and ensure the tech ecosystem remains diverse and innovative enough to meet tomorrow's workforce demands.
Please help us continue to provide valuable programming to the youth who need it most. Make a donation to AIM through our Omaha Gives page today.