The latest cohort of AIM Institute's Advanced Tech Leaders course graduated from the leadership academy last Friday. Congratulations to the 28 graduates!
Advanced Tech Leaders is an annual management course for tech professionals, with the goal of enhancing leadership skills that are essential for current and upcoming managers in the tech industry. 
Each session addresses common on-the-job issues faced by tech managers, including strategic planning, communication skills, innovation and empowerment. 
The 2019-2020 cohort adapted quickly to the challenges posed by the COVID-19 pandemic, which meant the last few months of the program were fully remote and online. 
"Getting to hear from – and get feedback from – top local executives was so valuable," said academy participant Laurie Lee. "The skills I've learned in this training have and will continue to help me be a better leader for my staff and my company."
The academy's focus on skill development also left a lasting impression on the participants. 
"I can leave more confident in my abilities as an IT professional," said Megan Thiemann, reflecting on sessions about personal development and pitching projects to executives.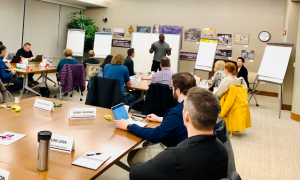 This was the 10th cohort of advanced technology professionals to graduate from AIM's leadership academy. 
A strong emphasis on networking was also appreciated by many of the participants, including Rajan Bhattarai. 
"This is a very powerful tool we have in Omaha," he said. "I've met so many great people, and a few people I will be friends with forever."
During Friday's virtual graduation ceremony, former participant and steering committee member Todd Campbell charged the group to step up in their organizations and in the community. 
"More than ever, we need leaders," said Campbell, who also taught one of the academy's sessions. "You're good leaders, and I know you care about the people you are about to lead and serve. I'm so proud of you."
"This class of Advanced Tech Leaders showed personal growth and a commitment to their career development during the last nine months," said Monika Philp, director of tech leadership development at AIM. "They have built a great personal network and I'm excited to see how their careers advance."
Interested in participating? Find out more about AIM's leadership academy for advanced and emerging IT leaders here. 
Congratulations to this cohort's graduates!
Robby Antonio, First National Technology Solutions
Ashwin Bhatnagar, Blue Cross Blue Shield
Rajan Bhattarai, Werner Enterprises
Ravinatha Buchupalli, Prokarma
Heath Christiansen, Nebraska Public Power District
Peter Gamboian, Blue Cross Blue Shield
Roger Garfoot, Omaha Public Power District
Cory Haglund, Blue Cross Blue Shield
Michelle Jenson, CSG International
Gaynor Kipp, Mutual of Omaha
Jonathon Klimek, Mutual of Omaha
Deepa Vasanth Kumar, National Indemnity Company
Laurie Lee, DTN
Collins Love, Omaha Public Power District
Katherine Palmer, Mutual of Omaha
Jayendra Pawar, Farm Credit Services of America
Jessica Porter, Omaha Public Power District
Travis Reineke, Omaha Public Power District
Sara Rivedal, Fiserv
Bidisha Roy, CSG International
Michael Sachar, Goodwill Omaha
Babu Shafi, Tenaska
Donald Shirley, Millard Public Schools
Divya Singh, National Indemnity Company
Jessica Steffen, Metropolitan Community College
Megan Thiemann, First National Technology Solutions
Shelly Welch, Farm Credit Services of America
Jeff Yost, Millard Public Schools
The AIM Institute is an innovative not-for-profit that grows, connects and inspires the tech talent community through career development and education.