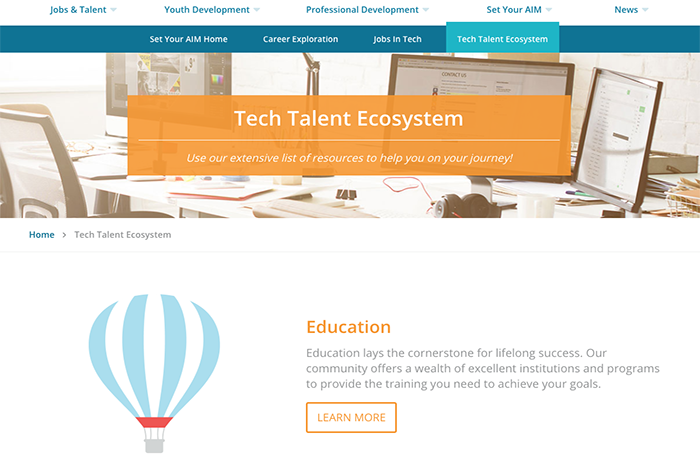 The AIM Institute exists to forge a stronger tech ecosystem in the Silicon Prairie, a region gaining considerable attention for its undersung role in tech innovation.
Since our inception, we've implemented programs designed to generate new tech talent, match existing talent with employers, and celebrate technology and the minds who make it.
Now, we are becoming the one-stop shop for tech. Recently, we launched a Tech Talent Ecosystem resource tool to help jumpstart your career in technology.
Drawing on our extensive, communitywide connections to all things tech, Tech Talent Ecosystem features an ever-growing list of resources that will help you no matter where you find yourself in your tech journey.
Here's a quick overview of the tool.
Education – Our Education page aggregates information about tech programs at higher education institutions, as well as some helpful resources for educators themselves.
Youth in Tech – Our Youth in Tech page assembles several activities geared toward K-12 students, including after school programs and summer tech academies.
Community – Our Community page leverages a list of scholarships and funding opportunities to help you embark on a career in tech.
Internships – Our Internships page helps connect you to internship programs that give you valuable, on-the-job experience.
Professional Development – Our Professional Development page lists the conferences and events you won't want to miss, whether you're just starting out or are a seasoned tech professional.
Workforce Development – Our Workforce Development page is especially helpful for those who want to attend code school, find a job or change careers.
Head over to our Tech Talent Ecosystem resource now, or share it with someone who wants to start or advance their career in technology.