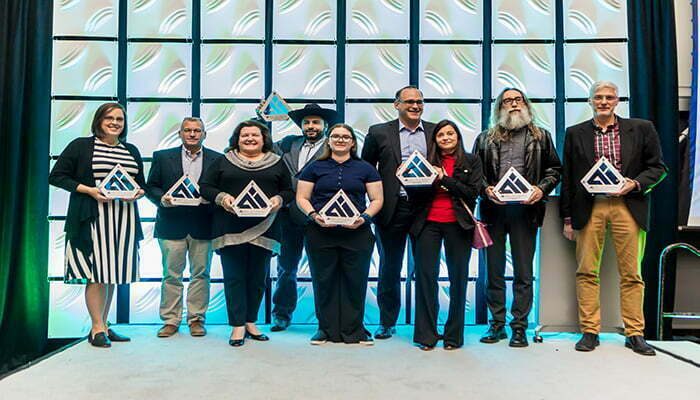 Amanda Crone (above, center) is fiercely talented. She can code. She can take apart computers and put them back together again. She can manage her time well. And she can stand in front of 500 strangers and deliver an acceptance speech for an award that distinguishes her from thousands of students in the metro area.
That's exactly what the Thomas Jefferson High School senior did at the 2019 AIM Tech Celebration awards ceremony last November. Amanda won Tech Student of the Year, one of several recognitions the AIM Institute gives out to spotlight the amazing contributions and innovations of the local tech community.

Amanda was nervous, having never given a speech of that magnitude before.

"Trying to figure out what to say and how much to say, but also to make it meaningful, was probably the hardest part," she said.

She didn't even know she'd been nominated until after she won the award. Sitting in class earlier this month, somebody texted her to check her email. When she did, she saw that she'd won the prestigious award—and that she and her family would get to attend Tech Celebration for her acceptance speech to the technology community.

"I think it's really cool," she said. "I was super excited."

Amanda first got interested in technology when she joined the AIM Upward Bound program at Thomas Jefferson. Upward Bound is a federal TRIO program that helps students from disadvantaged backgrounds succeed in their precollege performance. AIM coordinates Upward Bound programs and provides free technology education at five area high schools.

She joined the robotics club, then took some computer science classes. She can code HTML, CSS, and Java—so far.

"I want to learn more. I'm taking a C++ class later this year," she said.

This past summer, she not only attended AIM's Cybersleuth Camp—a weeklong cybersecurity camp for girls that seeks to raise interest in cybersecurity careers—she helped design the curriculum. Clearly, Amanda has already got a head start on the career she aspires to: a cybersecurity engineer, possibly for the FBI.

In her spare time, Amanda loves to read, particularly fantasy and sci-fi novels. Her favorite authors are Rick Riordan and Marissa Mayer. She loves to learn new things, and she volunteers at Dreamland Park. On her own initiative, she also teaches younger students how to code at both Thomas Jefferson and Abraham Lincoln high schools.

Next year, she plans to enter the cybersecurity program at the University of Nebraska at Omaha, for reasons that many readers might find familiar. "UNO is close, but not too close. It has a really good computer science program."

When asked what she wants to be in the future, Amanda said she wants to be very successful. "I want to be the person that somebody goes to when they have a question about computer science. A thought leader."

By all accounts, she's on her way.