Building the tech talent community
AIM Institute opens opportunities in the tech sector to everyone through education, career development, and outreach.

AIM Institute has fostered the growth of our tech sector for more than 25 years. Our vision is to help make Omaha a cutting-edge tech community where everyone can build a fulfilling tech career.
AIM promotes diversity and inclusion in the tech sector by making outstanding educational opportunities and career training accessible to all, from elementary school through adulthood.
AIM is an essential contributor to economic development in the Omaha area and beyond, developing, growing, and retaining local tech talent that is critical to the success of area companies and entrepreneurs.
AIM addresses the unique needs of each tech professional, new or experienced, by connecting them with the mentors, career navigators, and resources they need to expand their skills and tech network and build a fulfilling career.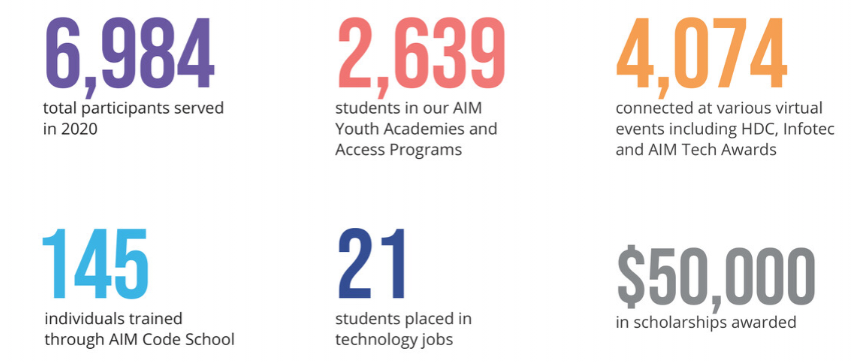 OUR IMPACT
Check out our 2020 impact report to witness the full scope of our work building the tech community.
PARTNER WITH AIM
Learn how to build your team and your business while helping grow the tech ecosystem.
YOUTH DEVELOPMENT
PROFESSIONAL DEVELOPMENT
OUR IMPACT
98%
Youth we serve graduate high school
$190,000,000
Community-wide annual economic impact
67,928
People trained in specialized tech fields
2/3rds
Participants are low income and/or first-generation college students
Why we do it
More tech workers = more resilient neighborhoods, greater capacity for innovation and investment.
Technology—and the tech talent who dream, design, and debug it—is crucial to community success. 2020 has reinforced our core operating principle that everyone needs the opportunity to learn technology skills, now more than ever.
That's why we offer life-changing tech education to youth and adults alike, to make sure no one gets left behind as new developments reshape our world.
AIM Newsroom
AT&T awards AIM $25,000 grant to promote diversity and inclusion among youth through tech education program
July 26, 2021 by AIM Newsroom
AIM Institute, an innovative nonprofit committed to growing a strong and diverse tech community through education, career development and outreach, received a $25,000 grant from AT&T for its Youth in Tech program. These funds will support the program through immersive, problem-based learning, design thinking and growth-mindset techniques to affect interest, attitudes and career aspirations in […]
Read more ›